If you have eyebrow hairs extending beyond your brow line ( Or it just happened to your love one ), there are rules when it comes to brow grooming that shouldn't be ignored, at least not by men. So eyebrow grooming for males doesn't mean to remove a lot of hair and shape them like a woman's and create high or dramatic arches. A simple tune-up will make them look more in line. Sometimes, all it takes is trimming the brows or taking a couple hairs here and there. Different rules apply for men than women when taming the brows.

1. Always keep your brows full. Brow grooming is about keeping them trim, not thin.
2. Stay away from creating arches, which are way too feminine. ( See graphic below )
3. If you do want to reshape your brows (but please do ask a professional) go for a straighter, longer shape as seen on Brad Pitt, George Clooney and Jude Law.
4. If your brows need tidying up, it's probably more about giving them a trim, for which you should use scissors and never tweezers. "Brush them downwards and trim with straight blade scissors," says Shavata, "which avoids the furrowed brow look."
5. "Brows are brothers, not twins, and should never be matchy-matchy," warns Shavata: too identical, too fake looking and dare we say it, a little vain looking on a guy.
6. We've said it before, but we'll say it again; men, seek the help of a professional before you attempt any kind of brow change.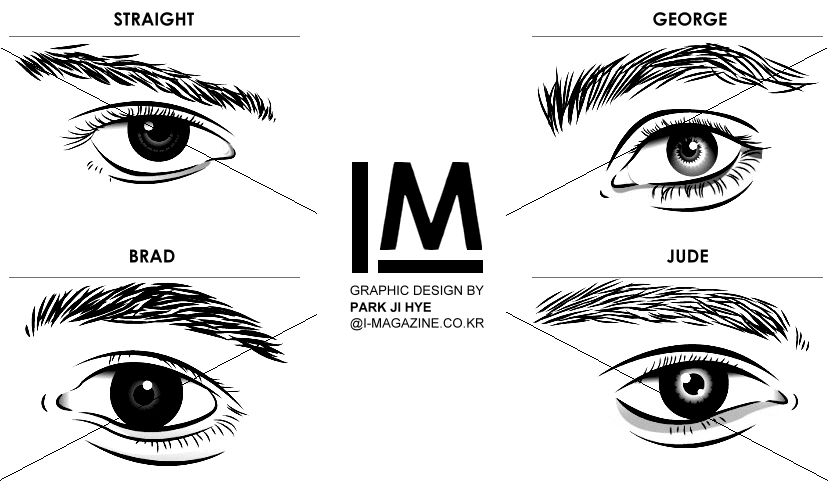 Photohraphy by Antoine and Charlie / Graphic Design By : Park Ji Hye ( I-MAGAZINE KOREA ) / Post by : Ivy Gain on 19 February, 2017